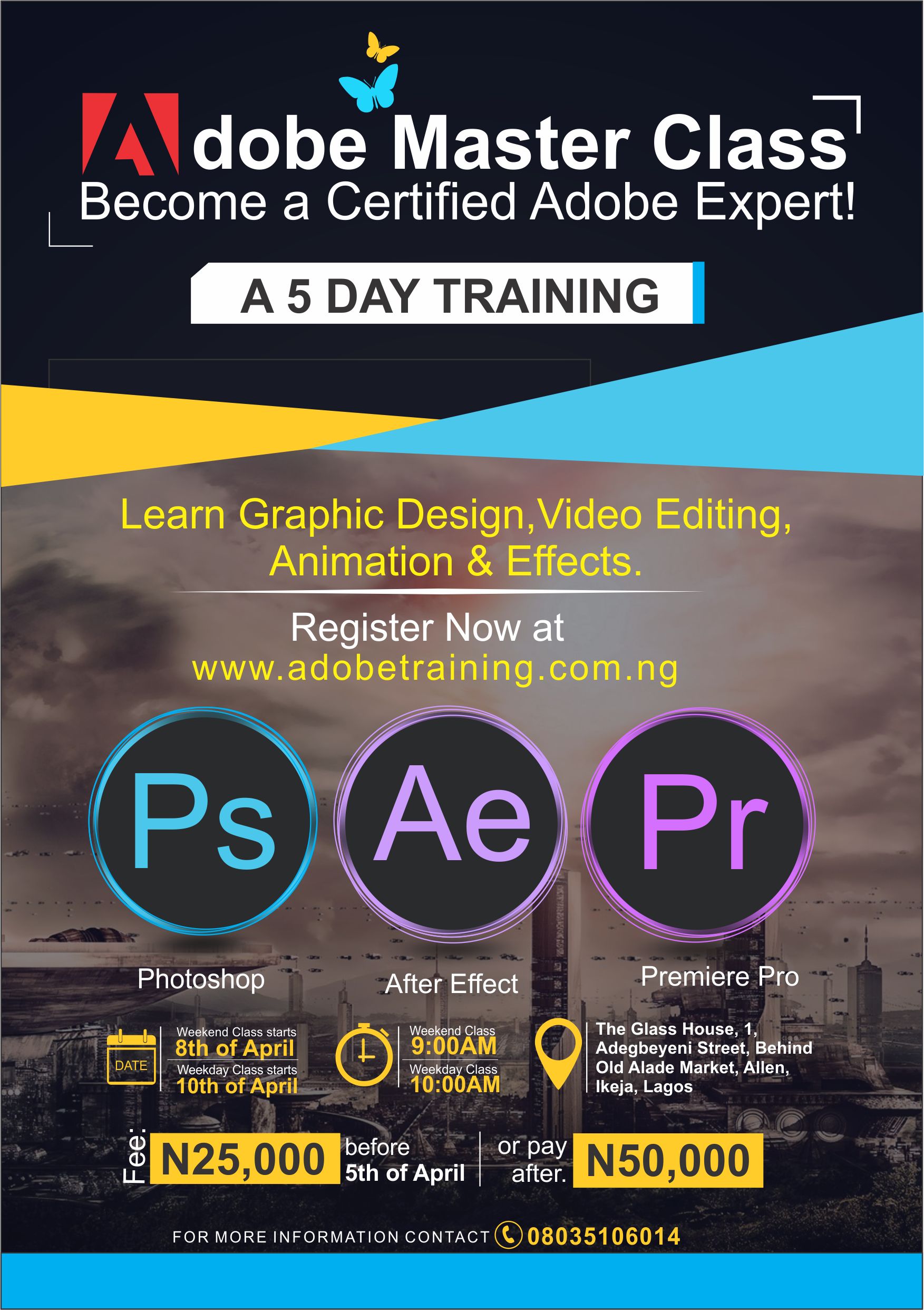 Event to be held at the following time, date, and location:
Saturday, April 8, 2017 at 10:00 AM
- to -
Sunday, April 16, 2017 at 4:00 PM (WAT)
The Glass House
1, Adegbeyeni Street, Behind Old Alade Market, Allen, Ikeja, Lagos
Ikeja
Nigeria
Access Fee: N25,000
LEARN GRAPHIC DESIGN, VIDEO EDITING, EFFECTS & ANIMATION
DATE: Weekend Class
8TH,9TH,15TH & 16TH April, 2017
WeekDay Class
10TH – 14TH of April, 2017
What You Will Learn
Graphic Design/Photography
Designing Logos
Designing Flyers/Banners
Creating Backgrounds
Creating Info-Graphics
Photo Editing
Color Correction
Removing/Changing Backgrounds
Creating Album Arts
And lots more…
Video Editing
Movie Capturing
Movie Editing
Documentaries
Interviews
Music Videos
Video Adverts
And lots more…
Video Effects
Creating Movie Effects
Creating Video Animations
Creating Film Tricks
Creating Video Adverts
Creating Video Montage
How to use/edit green screen
And lots more…
* Training Materials will be giving out after training
* Certificate will be issued to Participants after the training.
* Participants will be added to the private Mentoring Group.
* Daily Refreshments
* You'll be taught how to make money from Graphics & Video Editing
* You'll also be taught some basic skills of Social Media Marketing
* Become a Certified Adobe Expert.